The airport of the future: addressing washington's future transport problems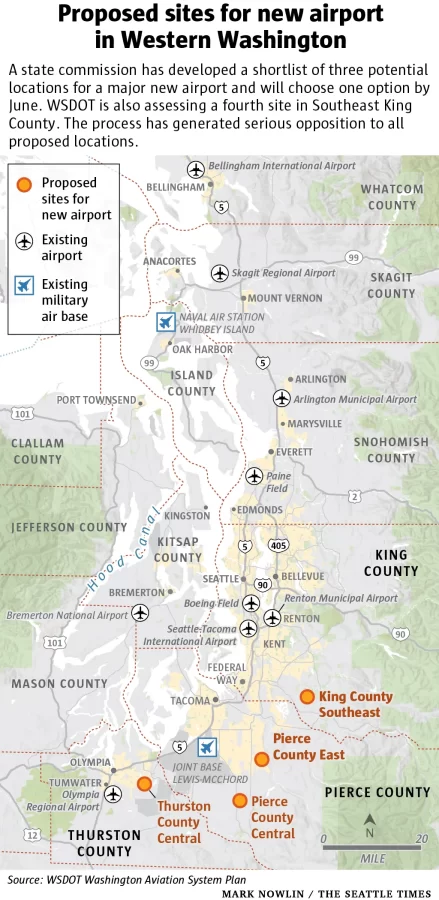 From 2010 to 2020, Washington State's population grew by approximately 890,000 residents, growing the population by 13%.   In the next twenty years, the evergreen state is projected to grow again by 2,094,308 people, an increase of 27%. That's unsurprising, given that Washington continues to be a center for the aircraft industry, international shipping, and the ever growing tech companies that call the Seattle area home.
In many ways this will be good for many people in the state, it will mean more jobs for future residents, more tax dollars for public works, and more attention and influence on the West Coast, in the United States, and around the world.
While many of the factors leading to growth, such as the tech industry and international trade, are human driven actions, one could also argue that it was always the destiny of the 39th state to join most coastal communities as a center of human habitation and activity.
While Washington's growth undoubtedly brings blessings and optimism to many, there are also reasons to be concerned about the future of the state and how we will manage our ever growing urban areas. In particular, the state government has recently found themselves wondering how they will be able to accommodate the increase in flight activity Washington will receive in the next fifty years. 
In 2050, 94 million passengers will go through Washington airports every year, an increase of 88% from the current 50 million passengers that Western Washington can currently service from Sea-Tac Airport and Paine Field in Everett. Future plans to expand both airports will increase their passenger capacity by 17 million, but both sites are near growing, tightly packed urban areas and for either one to accommodate the shortfall in future passenger services would require the uprooting of neighboring urban communities. 
In order for our state to avoid severely crowded skies and make future air travel possible, most state officials agree that a new airport will have to be built somewhere in Western Washington. 
Now, I for one do not have a problem with accommodating future population growth and human activity in Western Washington. I think it's great that our state is a hub for tech companies and is a place people want to move to for better job opportunities and a better life. Yet I still have reservations about a future airport in Western Washington, and I believe this state will only thrive if this problem is met with a combination of old and new ideas. 
I understand that our state is pretty isolated from United States save the west coast, so flying is a needed activity that has allowed businesses and people to settle here, but the future of human movement can't only focus on airfare. For one, climate change is proving to be an ever growing problem for Washington forests, communities, rivers, and farms.  Aviation is calculated to contribute only about 4% of human-made climate change, but the aviation industry is growing as more people globally have the means of flying future solutions will be needed to bring down airplane emissions. 
One of the most economic and practical solutions out there to offset human air traffic is to build high speed rail in Washington and the west coast. While flying will be needed for passengers arriving from across the country and other continents, bullet trains could serve as a cheaper, more relaxed, and environmentally friendly way for Washingtonians to travel to Oregon, California, and British Columbia. There are many short, regional flights that leave SeaTac every day. A bullet train could get passengers to Spokane, Portland, and Vancouver in a similar amount of time, and would free up airspace for longer haul flights. 
Another solution to this issue may also be to convert joint Base Lewis-McChord into a future airport, despite the military's opposition. While this idea has been discussed by state planners, and opposed by the base officials, the base itself is big enough to meet the demands any future airport would have to fill, and many experts agree that Eastern Washington could prove just as suitable of a site for the military's power projection on the West Coast. This would prevent the need to build over existing wildlife in Western Washington, and would connect the airport to an already urbanized community in surrounding Lakewood. 
No matter what, a future airport should not come at the expense of our state's protected green areas. With climate change, deforestation, and pollution already proving to be worldwide challenges that humanity has struggled to fight, in Washington we should not contribute to the problem. Remember, it's not just an airport that will be built, it is also future hotels, roads, and parking lots that will support the airport. This will not only increase the net construction area, but also disturb wildlife and nature in nearby wilderness areas.
Washington state is growing, and we can't be afraid to tackle the evergreen state's future challenges, but making plans for our state's future shouldn't come at the expense of our environment and health. We need a new airport, but whatever solution is used shouldn't discount alternative transportation solutions, and shouldn't be thrown away simply because it requires unwanted change from existing institutions. We can build the Washington of the future, the question is, will we?