National Book Awards & Bellarmine Book Recommendations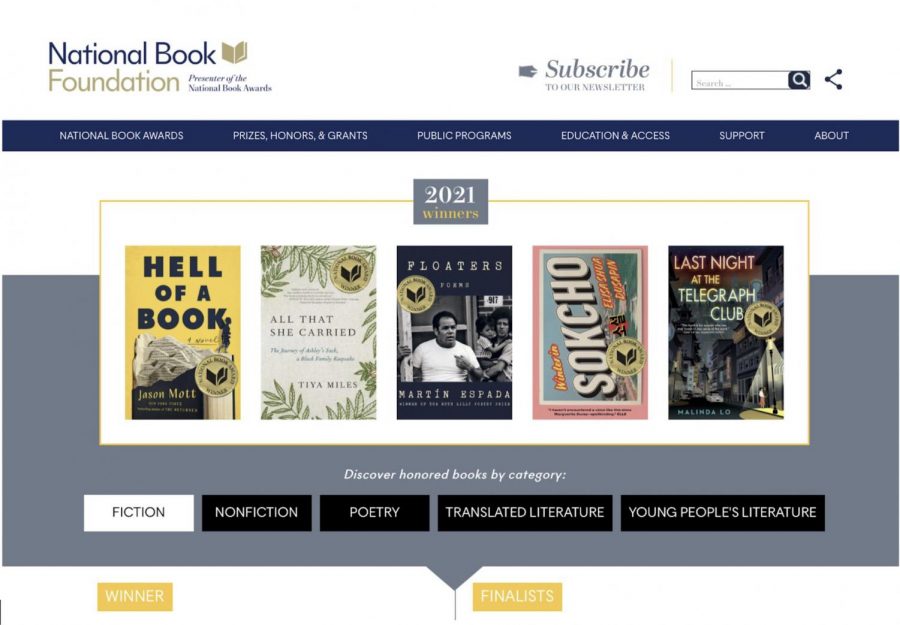 If you enjoy reading or want to get into a good book check out this year's National book award finalists and winners. These finalists are chosen by The National Book Foundation and the winners were announced on Nov 17. The National Book Foundation works to celebrate literature in America and ensure that books have a prominent place in American culture. The winners receive $10,000 and include categories like Fiction, Nonfiction, Poetry, Translated Literature, and Young People's Literature. The New York Times has even named it one of "the world's most prestigious literary prizes." 
The winner of the nonfiction category is "All That She Carried: The Journey of Ashley's Sack, a Black Family Keepsake" by Tiya Miles. The winner of the poetry category is "Floaters" by Martín Espada. The winner of the translated literature category is "Winter in Sokcho" by Aneesa Abbas Higgins and Elisa Shua Dusapin. The winner of young people's literature is "Last Night at the Telegraph Club" by Malinda Lo. The winner of the fiction category is "Hell of a Book" by Jason Mott.
Bellarmine students also had their own books to recommend. Senior Hyeseung Lee recommended the novel "Circe" by Madeline Miller, a classic adaptation of various Greek myths.
Senior Jade Sevilla recommended the mystery novel, "A Good Girl's Guide to Murder" by Holly Jackson.
Senior Victor Zimmerman recommended the two science fiction novels, "Dune," by Frank Herbert, and the "Foundation" series by Isaac Asimov.
Junior Rylan Jordan recommended the literary classic, "The Catcher in the Rye" by J.D. Salinger.