Filming in a pandemic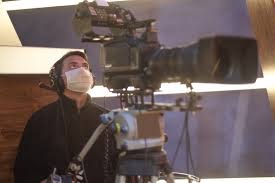 Films, TV shows and media productions such as "Tiger King," "The Queen's Gambit,"and "Bridgerton" all premiered during the tumultuous months of quarantine and have acted as a means to escape the world around us. The racial injustices, powerful voices of angered Americans, and a potentially fatal disease plaguing our world are put on hold as those privileged enough leave life behind for about 50 minutes to stare at their preferred screen.
As many shows and movies have been delayed, others have just started. The reality series, "The Bachelorette," was filmed in a resort where all the contestants had to quarantine for 14 days prior to filming. The show was a success and had aired in October 2020. Like "The Bachelorette," many casts had to quarantine for two weeks or more to film. During shooting, no one was allowed off the designated quarantine locations, and could not see other people outside of the cast or get anything delivered. Since movies and television shows require so many people, from makeup, to cameramen, it has been hard for many studios to film. Some directors have been creative and have made movies with smaller casts, or on zoom being social-distanced entirely. Will the pandemic influence the making of movies? Although COVID-19 stopped the world, made us rethink our actions, and the structure of the society we live in, it also unlocked a new creative spirit within the individual. Industries have found innovative ways to continue the practices and still deliver the content to people.
Some of the Movies that have been delayed:
"Star Wars"- December 22, 2023.
"Avatar"-December 17, 2021.
"A Quiet Place Part II"- Moved from March 8, 2020, to April 23, 2021.
"The Batman"- Moved from June 25, 2021, to March 4, 2022.
"Dune"- Moved from December 18, 2020 to October 1, 2021.
"The Forever Purge"- Moved from July 10, 2020, to July 9, 2021.
"In the Heights"- Moved from June 26, 2020, to June 18, 2021.