Who want some Pumpkin Pie?
Modified Recipe By Ruby Serra
Original Recipe From LiveWellBakeOften
https://www.livewellbakeoften.com/pumpkin-pie/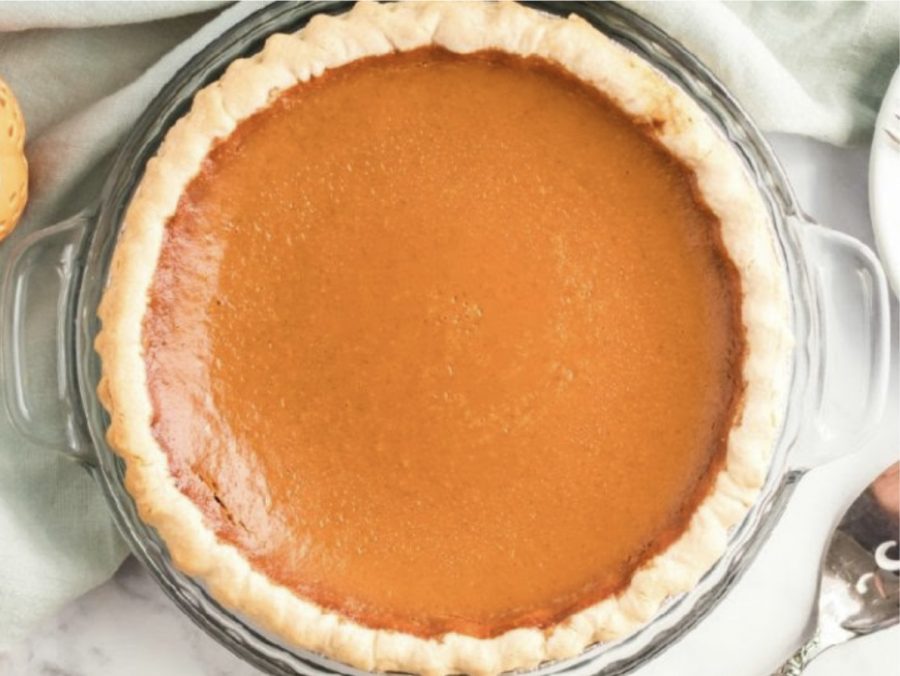 INGREDIENTS
DIRECTIONS
Pie Filling

1 cup light brown sugar

1 teaspoon ground cinnamon

½ teaspoon ground nutmeg

1 teaspoon ground ginger

⅛ teaspoon of cloves

1 tablespoon of all purpose flour

1 can of pumpkin purée (15 ounce)

3 large eggs (room temperature)

1 ¼ cups of evaporated milk

Pie Crust

1 store bought or homemade pie crust

*Note: you may use pumpkin pie spice as a substitute for the spices listed above.

To Prepare the Pie Crust

Preheat the oven to 400°F (204°C).

Roll the dough till it has a 12 inch diameter then transfer it to a 9-inch pie plate that is 1.5 inches deep. Trim any extra dough and decorate the edges. Chill in the refrigerator for 15-20 minutes.

Prick the bottom of the pie crust with a fork then line the pie dough with parchment paper (it should be in the corners and up the sides. Then fill with pie weights.

Bake the pie crust for 15 minutes at 400°F. Then remove from the oven and then remove the parchment paper and weights. Bake it again for 5 more minutes. Take it out and let it slightly cool.

To Prepare the Filling

Bring the oven temperature down to 375°F and then in a large mixing bowl whisk together the brown sugar, four, salt, ginger, nutmeg, cinnamon, and cloves until well combined.

In a different mixing bowl, beat the eggs lightly. After whisk in the pumpkin purée and evaporated milk until well combined.

Final Steps

Pour the dry ingredients into the wet ingredients and mix together until it's fully combined.

Pour the filling into the partially baked pie crust. Return to the oven and bake at 375°F for 45-50 minutes. The center should be almost set but still wobbly. Cover the edges with a pie crust shield or foil to prevent it from getting too brown.

Remove from the oven and transfer to a wire rack for 2 to 3 hours to cool completely. Cover tightly and refrigerate for several hours or overnight.